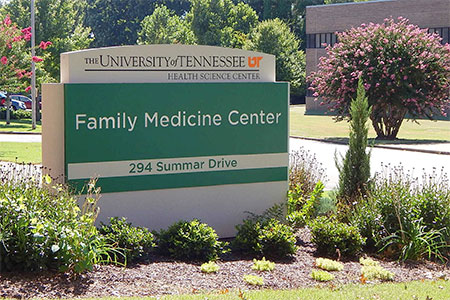 In practice for nearly 40 years, using cutting-edge, evidence based medicine, our state-of-the-art facility provides medical care for the whole family. From prenatal care of the pregnant patient, to newborn, pediatric, adolescent, adult, and geriatric care, we have everything you need in one location. Our facility has its own laboratory and x-ray facilities for the convenience of our patients. Our patients have 24-hour access to physicians in case of emergency. We accept walk-ins for most urgent problems.
The University of Tennessee Family Medicine Center prides itself on being the only academic training center in Jackson. We focus on preventive care, and our goal is to always prevent disease before it strikes. However, we will tirelessly work with you to optimize any medical problem you already have.
Our 34 physicians offer in-office procedures, including dermatologic procedures, osteopathic manipulation, joint injections and vasectomy. Additionally, we provide in-office contraception insertion of Nexplanon and intrauterine devices Mirena and Skyla (IUD). Our faculty physicians can even do your DOT physical!
The health of our community is very important to us. We invest in the health of our community by offering educational classes and community service opportunities for our physicians. We hope YOU will find a medical home here at UT Family Medicine Center, where the health of our patients is our top priority!
History
In the late 1970s, family practice physicians were rare in rural West Tennessee, and many communities didn't have easy access to medical care. In 1979, Jackson-Madison County General Hospital partnered with the University of Tennessee Medical School in Memphis to create a training facility for future Family Medicine physicians: the University of Tennessee Family Medicine Residency Program, here in Jackson, TN. As the epicenter of West Tennessee, Jackson was the optimum location to train new physicians. The hope was that many of those physicians would stay to practice in West Tennessee.
Over the years, hundreds of physicians have been trained in Family Medicine at UT Family Medicine Center, fifty percent choosing to remain and practice in West Tennessee. Today, the UT Family Medicine Center has 26 exam rooms, x-ray facilities, procedure suites and laboratories.
We have 34 physicians, who provide care in both the clinic as well as at Jackson-Madison County General hospital.
All of our faculty physicians are board certified and are Assistant Professors or Associate Professors with the University of Tennessee educational system.